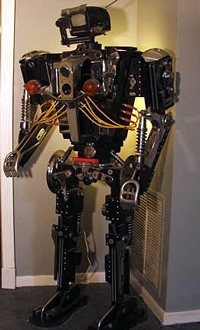 PHOTO: Robot designed by Liza Trainer.
ABOUT LIZA
Any student over age 12 can enter by drawing their robot on standard letter paper. Entries must follow
Contest Rules
below.
GET A FREE TICKET TO THE SHOW!

The first 100 drawings submitted will receive a FREE ticket to "Beware The Eyes Of Mars", in March 2006!
You must come to the "Robots From Mars" Day at the Broward Main Library on Feb. 18, 2006 to get your free ticket.
CONTEST RULES:
- Only students may enter.
- Robot must be drawn on 8"x10" letter paper.
- Any type of paint or pencils may be used.
- The robot is a girl, and so she must be colorful,
friendly, but older. Be creative!
- Entries must be submitted by Feb. 14, 2006 by:
FAX: 954-206-0567
or
(jpg or PDF)
- Your fax cover sheet or email must include your full name, age and grade, mailing address, and home phone.
- Entries that do not follow the contest requirements will be disqualified. Free tickets are limited to the first 100 entries.

ABOUT THE ROBOT:
She is a female android, called the "Bronhilda One Series". She is a flight comfort unit aboard a cruise ship in outer space, but she was the first model made, and so she is very old, and has trouble serving the passengers.
VISIT THE
MARS BOARD
FOR IDEAS!