BE A SPONSOR & HELP THE KIDS!
> Top Sponsors mentioned in TV & Print Media
> Associated with Community & Kids Charity
> Video Ad on Theatre screen to 3,000 PP
> Tax-Deductable Donation
> Ad in the Playbill Program

http://www.delrizian.com/robotcontest.h


We are happy to announce that Delrizian Productions, Inc. presented 'Kids In Distress' with a donation check of almost $2,000 on March 24, 2006, from the profits of the Mars Musical!

Delrizian Productions is also donating 12 boxes of Halloween costumes, party supplies, Mars T-Shirts and Posters to the children's charity.

Kids In Distress recently thanked us by presenting us with a framed plaque drawn by one of their kids, which symbolizes the show's message of overcoming alienation with love and 'family,' as in the song "Everywhere Is Family."

I am very proud of the cast and crew of the Mars Musical and to "Kids In Distress" Volunteers for helping and donating their time to help this worthy cause, and also for helping to promote local community theatre and new artist works. The show was astronomical undertaking, but we did it!!!

ALL OF THE SHOW'S PROFITS BENEFIT
THE CHARITY, "KIDS IN DISTRESS".

Kids In Distress houses and cares for
abused, abandoned and displaced children.
Due to Hurricane Wilma, the waiting list has grown,
and they need your help more than ever.
Help the kids by sponsoring our "Mission to Mars".










GET A FREE VIDEO AD!
Sponsorships of $1,000 + get a free 30 second video ad and free TV and media coverage, and may be fully tax-deductable!* All sponsors are in the program. Inserts must be supplied by sponsor. Donations do not include a "video ad". Video ads are $500 for 30 seconds. Sponsorships must be over $1,000 to be mentioned in the media.

CLICK TO SUBMIT LOGO FOR PROGRAM

We will also promote the musical with a
FREE "ROBOTS FROM MARS" CONTEST
on Feb. 18, 2006, as well as displays at the library.
There will also be roaming characters and aliens
from the show! Media and TV stations will be there
to create a buzz about the show, and so they know
that it is for charity. Our top sponsors will be
mentioned in the media.

Please contact us right away, as time is
running out to raise the funding needed
before rehearsals in Jan., 2006.

Please help the kids by sponsoring our
"Mission to Mars" and beyond!

SPONSORSHIP LEVELS:
Silver: $1,000+
Gold: $2,000+
Platinum: $3,500+
Superstar: $5,000+






*Consult a CPA for tax eligibility.

Photo (above):

'Thank You' Plaque from

KIDS IN DISTRESS.

TO DONATE ONLINE:

Click "DONATE" button.
You will be taken to the Paypal secure site, which accepts Visa, Mastercard, Discover & American Express. Enter any amount. Donation is billed as "Delrizian".

For donations over $2,000,
CONTACT US.

AFTER YOU PAY:
If you gave an email address, you will be emailed a receipt, or print the page for tax purposes.*

If you are a business and want to be in the program and/or video ad, please complete the
SPONSOR FORM*

FAX SPONSOR FORM TO: 954.206.0567

*Include your company, name, address and email. Or, if you prefer, mail to address on the form, along with a check, payable to:
"Delrizian Productions, Inc."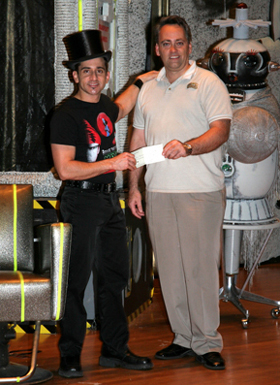 PHOTO: Composer/Director David Mann presents a donation check to "Kids In Distress" Children's Charity.









We also thank the following companies
and individuals for their services and support:



Zelda Salem and Roy LaFontaine
Jerry R. Adato
The Baytrust Companies
Georgie's Alibi
AutoNation
ULS Media
Mark Akens
Fort Lauderdale Children's Theatre
Main St. Players Theatre
Flawless Studio & Cosmix
Kinko's
Jump On Marks List
The Eastsider
Sun-Sentinel
The New Times
Girl Magazine
Buzz Magazine
411 Magazine
Express Gay News
J.R. Davis, Photographer
Edisow Farrow's Martini Tuesdays
Children's Resource Center
Kids In Distress
Broward Cultural Center
Broward Main Library
Friends of the Ft. Lauderdale Libraries
Fort Lauderdale Children's Theatre
Vadar Productions Inc.
Sunshine Cathedral
Rip It & Beverages Corp. Int'l.
Flamingo Freedom Band
Venture Out